One of the most difficult things to describe to the average person about religious classification is Black Protestants.
In 2000, a group of scholars created the RELTRAD classification scheme which divided Protestants up into three categories — evangelical, mainline and Black Protestant. Why are Hispanic and white evangelicals grouped together, but Black Protestants get their own separate category? What about Black evangelicals, Black Pentecostals and Black mainline Protestants?
It's not an easy question answer, really.
Paul Djupe and I tried to answer that a few years ago in a post at Religion in Public. The answer will not shock GetReligion readers.
In short: politics. But, it's a bit more than just how they vote on election day. Anyone who has ever worshipped with a predominantly Black congregation knows that it tends to be a bit different than how the United Methodists and lots of other folks do things on a Sunday morning.
I've always been fascinated by the role that the church plays in Black culture and was wondering if the rising tide of secularization had been blunted in a bit among African Americans — or if they were seeing the same trend lines as other racial groups.
In 2008, Black Americans were noticeably less likely to report no religious affiliation compared to their White counterparts. About one in five Black Americans were nones in 2008. That's no different than Hispanics and three points less than White respondents.
But over the last few years, that gap has essentially disappeared. Now, thirty-five percent of Blacks claim no religion on the Cooperative Election Study — an increase of 15 percentage points in 14 years. That's the same trajectory as Hispanics. Now, there's no real difference in the disaffiliation rate of Whites, Blacks, and Hispanics. (Asians are much higher and I'm going to write about them more in a future post).
From this high-level view, there's really no story here. Black people are just as likely to be nones as other racial groups.
However, even a cursory look under the hood reveals some noteworthy differences.
Here's what I mean. If you just isolate the entire sample to those who don't identify with a religious tradition it typically breaks down like this:
* 18% atheist
* 18% agnostic
* 64% nothing in particular.
That's pretty close to what you see when you look at White and Asians respondents. About one in five are atheists, one in five are agnostics and three in five are nothing in particular. But look at this chart more carefully.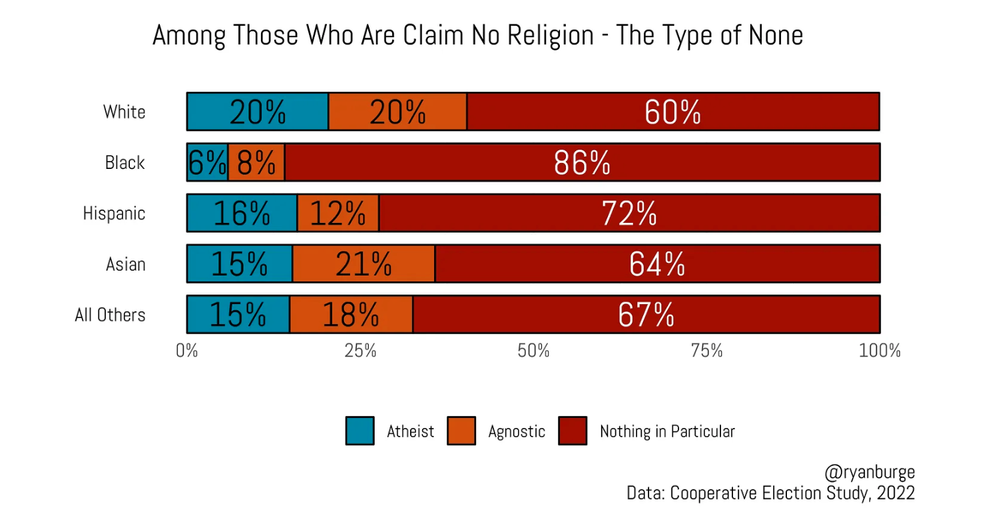 The clear outlier here are African Americans.
Nearly all of Black nones are nothing in particular — 86%. Just a very small handful are atheists (6%) or agnostics (8%). In the total sample of all Black respondents, just 2% are atheists. For comparison, it's seven percent of white respondents in the full sample.
Consider this: There are more Black Muslims in the 2022 Cooperative Election Study than there are Black atheists.
Black Americans are half as likely to identify as an atheist compared to any other racial group. That's obviously a statistic that cannot be ignored. The word atheist clearly has a lot of stigma associated with it in American society, but one has to wonder if the word carries even more baggage among African Americans.
Affiliation is just one part of the puzzle, though.
CONTINUE READING: "Black Americans Are Just as Likely to be Nones as Other Racial Groups" by Ryan Burge.
FIRST IMAGE: Feature art at the Strength with Dignity website feature, "Partnering with God in Prayer."
This content was originally published here.