By Katie McLaughlin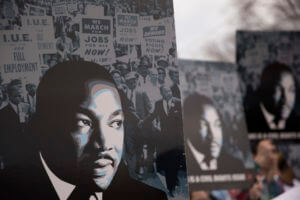 FILE – People carry signs as they march following the Rev. Martin Luther King Jr. commemorative service at Ebenezer Baptist Church, Jan. 16, 2017, in Atlanta. (AP Photo/Branden Camp, File)
On the third Monday of each January, America remembers Dr. Martin Luther King Jr., a prominent civil rights leader in the fight against racial discrimination in both federal and state law.
In honor of Dr. King's legacy, here's a look back at some cases involving Black rights that Court TV has covered over the years, as well as some of the network's reporting on legal stories that shaped Black history.
THE DEATH OF GEORGE FLOYD
On May 25, 2020, bystanders in Minneapolis captured cell phone video of police officer Derek Chauvin kneeling on the neck of George Floyd during an arrest. Two other cops — Thomas Lane and J. Alexander Kueng — held Floyd down while a third, Tou Thao, attempted to keep horrified onlookers at bay.
Chauvin kept his knee on Floyd's neck for 9 1/2 minutes, even though he said he couldn't breathe. Floyd died there in the street.
All three former officers are currently behind bars, having been convicted of both criminal and federal charges. Chauvin faced the most serious charges, and is currently serving a 22 1/2 year state sentence for murder and manslaughter. He also received a 21-year federal sentence for civil rights violations, and will serve that sentence concurrently.
THE KILLING OF AHMAUD ARBERY
On February 23, 2020, Ahmaud Arbery was jogging in Brunswick, Georgia when he was chased by Gregory and Travis McMichael, who were in a truck. Neighbor William "Roddie" Bryan followed in his own truck and filmed the altercation.
The McMichaels, a father and son, boxed Arbery in with their truck while trying to make a citizen's arrest. They thought Arbery was responsible for recent neighborhood break-ins.
Travis shot Arbery at close range with a shot gun. He collapsed and died in the street. Travis claimed it was self-defense.
The McMichaels and Bryan were all convicted of murder on the state level and all got life sentences. They were later convicted on federal hate crime charges with the McMichaels receiving life sentences and Bryan getting a 35 year sentence.
BREONNA TAYLOR BOTCHED RAID
In the early morning hours of March 13, 2020, Breonna Taylor was gunned down by officers executing a no-knock warrant in a narcotics investigation. When the cops kicked in the door to Taylor's Louisville apartment, her boyfriend, Kenneth Walker, fired his own legally-owned gun, believing the home was being broken into.
Two officers — Sgt. Jonathan Mattingly and Detective Myles Cosgrove — returned fire, striking Taylor, 26, who was standing in the hall with Walker when she was struck by eight bullets. Taylor, who was an EMT, bled to death. Walker was not harmed.
Another officer on the scene, Brett Hankison, was standing outside the apartment during the raid. None of Hankison's bullets struck Taylor, but he did go on trial for charges unrelated to Taylor's death, facing three counts of wanton endangerment for recklessly firing into a neighbor's apartment. Hankison was found not guilty.
Mattingly and Cosgrove were not indicted. Their claim that they shot in self-defense was deemed justifiable because Walker fired first.
Additionally, it turned out that the narcotics investigation focused on an ex-boyfriend of Taylor's who never lived at her address.
THE DEATH OF DAUNTE WRIGHT
On April 11, 2021, Minnesota police officer Kim Potter pulled Daunte Wright over for having an expired vehicle registration, as well as an air freshener hanging from his rear view mirror (Minnesota law prohibits motorists from hanging objects from rear view mirrors).
Potter soon learned Wright had an outstanding gross misdemeanor warrant. As she attempted to take Wright into custody, he got back in his car. Potter then shot Wright in the chest with her service weapon, which she claimed she mistakenly grabbed instead of her Taser.
Wright drove a short distance before colliding and dying at the scene. Potter was found guilty of first and second-degree manslaughter. She's currently serving a two-year prison sentence.
THE BEATING OF RODNEY KING
Just after midnight on March 3, 1991, the savage beating of unarmed motorist Rodney King was caught on a bystander's video camera. King, 27, had been speeding in Los Angeles and refused to pull over for cops.
He eventually stopped, and multiple police cars descended upon him. When King refused to lie on the ground, officers kicked, punched, Tased and attacked him with batons.
Four officers –Laurence Powell, Stacey Koon, Theodore Briseno, and Timothy Wind — were charged in connection with the beating. All four officers were tried for use of excessive force. All four were acquitted. Those not guilty verdicts kicked off the LA Riots. In their federal trial, however, Wind and Briseno were acquitted, while Powell and Koon were convicted of violating King's rights and sentenced to 2 1/2 years in prison.
THE KILLING OF AMADOU DIALLO
Just after midnight on February 4, 1999, plainclothes-cops shot at Amadou Diallo 41-times. The officers were members of the New York Police Department's now-shuttered Street Crime Unit.
Diallo, 23, an immigrant from West Africa, was struck by 19 of those 41 bullets. He died on the stoop of his Bronx apartment building.
Officers Kenneth Boss, Sean Carroll, Richard Murphy, and Edward McMellon later admitted they mistook Diallo for a rape suspect. That said they believed Diallo was reaching for a gun when they fired their service weapons. Diallo was unarmed.
The officers were eventually found not guilty of his murder.
THE DEATH OF TRAYVON MARTIN: 10TH ANNIVERSARY LOOKBACK
Trayvon Martin, 17, was visiting his father in a gated Florida community in 2012. While walking home from a convenience store where he had purchased candy and iced tea, the unarmed teen was shot and killed in a physical altercation instigated by neighborhood watch member George Zimmerman, who was later acquitted of second-degree murder.
LANDMARK SUPREME COURT CASE: HEART OF ATLANTA MOTEL v. U.S.
In 1964, newly-enacted legislation prohibited discrimination in public spaces based on race, sex, color, religion, or national origin. The Heart of Atlanta Motel challenged that new law, and the Supreme Court rejected that challenge, ruling that Congress had the right to prohibit discrimination in public accommodations.
According to the high court, African-Americans were unfairly shut out from accommodations across the country. In short, the ruling stated that owners of public accommodations have no constitutional right to pick and choose their guests.
LANDMARK SUPREME COURT CASE: PLESSEY v. FERGUSON
Louisiana businessman Homer Plessey had one African-American grandparent, and was therefore Black in the eyes of the law. While traveling by train in 1892, Plessey refused to sit in a car for Black people, which was required by law in Louisiana at the time.
Upon his arrest, Plessey petitioned the Louisiana Supreme Court for a writ to stop trial court judge John H. Ferguson from going forth with proceedings. Plessey was convicted and appealed to the United States Supreme Court, arguing that the 14th Amendment's equal protection clause allowed him to sit where he wanted. The state argued that separating people by races ensured public safety.
In a 7-1 decision, the Supreme Court upheld Louisiana law, stating that as long as the accommodations were equal, the federal government could not interfere. Thus, "separate but equal" became law, upholding the constitutionality of racial segregation. That "separate but equal" doctrine was finally overturned 60 years later by Brown v. Board of Education in Topeka, KS in 1954.
BLACK AND BLUE: A COURT TV SPECIAL
This hour-long Court TV special took a deep dive into the criminal justice system's history and relationship with African Americans.
For more on Court TV's coverage of Race and Justice, click here.
Fore more crime and trial news coverage, visit Court TV
This content was originally published here.