Florida governor Ron DeSantis announced plans this week to block state colleges from having programs on diversity, equity and inclusion, and critical race theory in his latest attack on Black and LGBTQ+ people in the public education system..
The second-term governor, who is widely expected to launch a 2024 White House bid in the late spring or early summer, previously blocked a new advanced placement course on African American studies from being taught in high schools, saying it violates state law, and championed a "don't say gay" law prohibiting lessons about sexual orientation or gender identity in the state's primary schools.
DeSantis has pursued an aggressive series of policies to block teaching or discussion about America's racist past and present, making a name for himself in a national Republican party still defined by the legacy of Donald Trump, who famously mobilized white voters' racism and resentment of attempts to change the nation's racial hierarchy into a winning bid for the White House.
Last year, DeSantis signed legislation, dubbed the "Stop WOKE Act," that restricts certain race-based conversations and analysis in schools and businesses. The law bars instruction that says members of one race are inherently racist or should feel guilt for past actions committed by others of the same race, among other things.
In his new effort to restrict diversity efforts at public colleges, DeSantis pledged at a news conference that critical race theory and diversity, equity and inclusion programs, known as DEI, would get "no funding, and that will wither on the vine".
DeSantis is not alone: so far, at least 25 states have considered legislation or other steps to limit how race and racism can be taught, according to an analysis from Education Week. Eight states, all Republican-led, have banned or limited the teaching of critical race theory or similar concepts through laws or administrative actions. The bans largely address what can be taught inside the classroom.
Trump, who is also running for president again in 2024, unveiled his own education plan last week that promises to cut federal funding for any school or program that includes "critical race theory, gender ideology, or other inappropriate racial, sexual, or political content onto our children".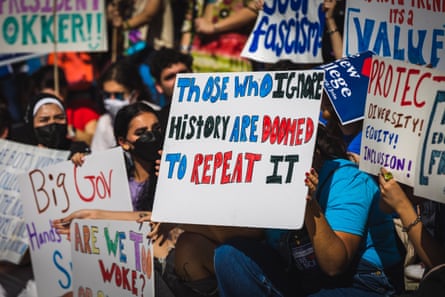 "Our public schools have been taken over by the radical-left maniacs," Trump, the only declared candidate in the race so far, said in a video announcing the plan.
As Republican politicians use backlash against classroom curricula to win elections, the attacks are having ripple effects nationwide. In the wake of DeSantis' blocking an Advanced Placement course on African American studies, the College Board, a national standards organization, released a final curriculum for the course with multiple changes that appeared designed to appease rightwing politicians, the New York Times reported.
"The College Board purged the names of many Black writers and scholars associated with critical race theory, the queer experience and Black feminism," the New York Times reported, contrasting the final curriculum with an earlier draft. "It ushered out some politically fraught topics, like Black Lives Matter."
A College Board spokesman denied to the New York Times that there had been any political influence on the curriculum and said the changes to the final course predated the rightwing backlash.
DeSantis , who himself briefly taught history at a private high school in Georgia before attending law school, was remembered by students there for his controversial views on the civil war, the New York Times reported, which prompted a satirical video about him lecturing students: "The civil war was not about slavery!"
One of his former students said DeSantis "was mean to me and hostile toward me … because I was Black", the New York Times reported.
DeSantis' current higher education proposal was expected after his administration requested in late December that state colleges submit spending data and other information on programs related to diversity, equity and inclusion, and critical race theory. The governor is also pushing for education administrators to "realign" courses to provide what his administration deems to be historically accurate information.
Critical race theory is a way of thinking about America's history through the lens of racism. Scholars developed it during the 1970s and 1980s in response to what scholars viewed as a lack of racial progress following the civil rights legislation of the 1960s. It centers on the idea that racism is systemic in the nation's institutions, which function to maintain the dominance of white people in society.
In a statement, the governor's office said the proposal to block diversity and critical race theory programs "raises the standards of learning and civil discourse of public higher education in Florida" by "prohibiting higher education institutions from using any funding, regardless of source, to support DEI, CRT, and other discriminatory initiatives".
Also this week, the DeSantis conservative allies continued their takeover of a small public liberal arts college with a very progressive student body, about half of whom identify themselves as non-heterosexual.
The newly conservative majority on the once progressive New College of Florida board of trustees – most of whom DeSantis recently appointed – voted to oust the current president, Patricia Okker. They also voted to begin debate on whether to abolish the office of diversity, equity and inclusion, and related programs. The final word on diversity, equity and inclusion programs will come at another meeting.
Before the meeting, dozens of students held a rally outside to oppose major changes to the school and its mission, which is known for its open approach to coursework without specific grades, and being a safe place for many LGBTQ+ students who feel marginalized in other schools.k
"That's what's at stake today and what we're here to protect: the freedom to learn, the freedom to think and the freedom to be who we are," said fourth-year student Madison Markham.
This content was originally published here.